Firing curves / temperature profiles
Firing is a critical process step at every enameling shop. In order to continuously achieve good enameling results, it is important to maintain the actual firing conditions at the enameling furnace within strict tolerances. Regularly verifying the actual temperature profile on the object is therefore a common procedure within ISO 9000 quality assurance systems at many industrial enameling plants.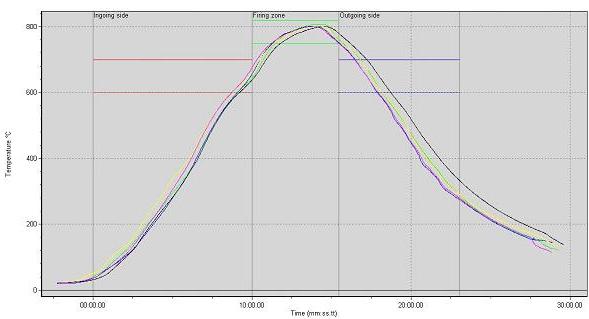 Above a typical example of a temperature profile at a double hooked U-type continuous enameling furnace.
Important aspects of firing curves are :
Top temperature
Time at top temperature
Time above soaking temperature
Temperature differences between top & bottom
Temperature increase/decline at preheating & cooling zone
Equipment for measuring actual firing temperature
Traditionally temperature measurement within continuous enameling furnaces was done with a so-called Bozsin box. These large & heavy insulated boxes contained a full-size working temperature recorder with paper printer, which was connected via one or multiple thermocouples to an object while both being suspended at the furnace conveyor and passing thru the enameling furnace.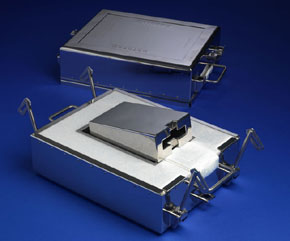 Over time electronics became smaller & smarter and nowadays furnace temperatures profiles are recorded by means of a data logger which is placed in a much smaller thermal barrier. (See picture above)
Upon completion of the test run this data logger is connected with a laptop or PC and the collected data may be processed & analyzed with advanced software.
DTC services
DTC has more then 25 years experience with enameling processes & equipment and may assist you to specify & source the most suitable furnace tracking equipment & software.
Furthermore we may more provide advice and/or assistance for keeping your enameling furnace is a good condition.
Related topics :
Tags :
temperature, profile, profiling, measuring, analyzing, firing, curve, enamel, enameling, furnace, oven.